South India Tours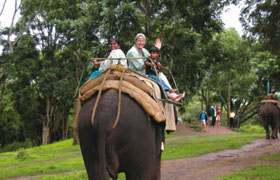 Welcome to the peninsular part of India, the land of colors and diversified cultures. South India has fascinated the world with its mystical culture, a civilization divided and united by its diversity, a land enhanced by the richness of its culture.
South India has always been a favorite destination for tourists. Its diversity in terms of landscapes, people and cultures, food habits, art and architecture makes it fascinating and a definite crowd puller. From the temples of Tamil Nadu to the backwaters of Kerala and caves of Deccan, south India always has something new and adventurous to offer. The states of south India reflect in itself the brightness and versatility of its culture. Therefore, the culture of south India is always a topic of great interest for all. Here we present you with 10 websites that will provide you with handy and relevant informations about the diversities of south Indian culture.

We offers South India Tours Packages including - Cultural Tours, South India Religious Tours, South India Temple Tours, Spice Tours, Tribal Tours, Rail Tours, Bikes Hikes Tours, Boats Tours Backwaters Tours & much much more...