Royal Indian Weddings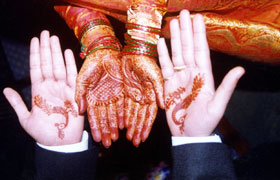 They say marriages are made in heaven formalities are done on earth helps you to celebrate wedding in a special and exclusive way. Making your special moment an unforgettable celebration. No matter what you want done - choosing the venue, deciding the décor and wedding themes. We ensure that everything happens exactly the way you want it.
The wedding Ceremony is held in the evening or night, on a date and time which is deemed auspicious - after duly consulting almanacs and the horoscopes of the partners to be. It is usually a culmination of a series of related ceremonies such as sangeet (a gathering of family and friends to sing and dance-celebrating the coming together of two families.) For the Wedding itself a mandap is erected -a sort of elaborately decorated tent, and a "havan" is lit -sacred fire for sanctity and purification inside the mundap. The pundit-a high caste Brahmin, now, solemnizes the contract by reciting and getting the couple to recite Vedic hymns from our 7000 year old Aryan ancestry. This is followed by (or can be accompanied by) feasting, music and celebratory shows for the guests.