Heritage Tours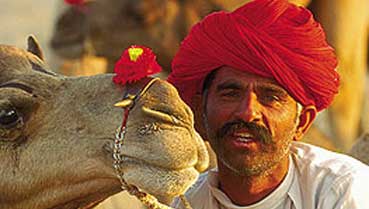 Rajasthan, the beautiful desert state of India, is perhaps the most fascinating and colorful state of the country. Known for its vibrant and colorful traditions, arts, heritage and culture, Rajasthan has a very rich cultural and historical past. The land of valiant Rajputs, Rajasthan has some of the most fascinating Forts, Palaces, Historical monuments and heritage cities of India.
Rajasthan is an abode that inherited a magnificent heritage from the past. The Rajputs like the Mughals were prolific builders and have patronized some of the most distinguished and impressive forts and palaces in Rajasthan. Almost every city of Rajasthan is lined with some of the architectural masterpieces, which tell about the magnificent past of the land. Some of the fascinating heritage cities of Rajasthan are Jaipur, Jodhpur, Udaipur, Jaisalmer and Bikaner. All these cities are counted among the most famous heritage cities of India.

Rajasthan is not only famous for its heritage sites but the beautiful land is known worldwide for its rich and colorful cultural heritage too. The richness of Rajasthan's culture can be seen in her colorful customs and traditions, music and folk dances, arts and handicrafts, delicious cuisine and last but not least the liveliness of the people known for their hospitality. It's quite difficult to express the heritage beauty of Rajasthan in few words.


Royal Rajasthan Tour
( 09 Nights / 10 Days ) Destination Covered:- Delhi, Jaipur, Jodhpur, Udaipur, Jaisalmer, Bikaner, Delhi.
Rajasthan Heritage and Culture Tour
Rajasthan tour, Rajasthan travel, Rajasthan heritage tour, Rajasthan culture tour, Rajasthan India travel, Rajasthan desert tour, Jaisalmer Desert trip, Thar desert tour, Rajasthan visit, Travel to Rajasthan, Travel to Rajasthan India
Fort and palaces of Rajasthan
( 20 Nights / 21 Days ) Destinations Covered:- Delhi, Agra, Jaipur, Pushkar, Ranthambhore, Kota, Bundi, Chittaurgarh, Udaipur, Kumbhalgarh, Jodhpur, Jaisalmer, Bikaner, Mandawa, Delhi.
Royal and Rural Rajasthan Tour
( 13 Nights / 14 Days ) Destnation covered:- Delhi, Agra, Fatehpur Sikri, Jaipur, Bikaner, Jaisalmer, Jodhpur, Ranakpur, Udaipur, Ajmer, Pushkar, Delhi.
Golden Triangle Tours
Golden triangle tour India, golden triangle trip, India golden triangle, golden triangle travel India, Tajmahal tour India, India Taj Mahal, Delhi tour, Jaipur tour, Agra tour, Delhi travel, Agra travel, Jaipur travel, Delhi- Agra – Jaipur travel, Delhi-Jaipur-Agra tour