Motor Bike India Tours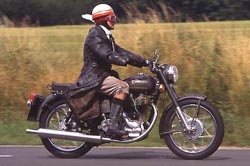 Our motorbike tours are aimed at achieving the thrills of adventure combined with sight seeing of places of natural beauty and tranquility. We have a set of identified destinations in India, which beckon the free spirited and the serene alike. You could ride through the Desert rendezvous Rajasthan, enjoy a Mighty Himalayas or embark on a Coastal odyssey... and everything in between.
Motorbike Safari India
Motorbike safari in India is another exciting adventure to experience!!!
You can hire a motorbike to us & explore the various faces of India.

Common & most popular Motorbike Safari Circuits are:
Cultural Circuit:
In North- Combining, Rajasthan, Madhya Pradesh, Uttar Pradesh
In South Combining, Tamil Nadu, Kerala, & Karnataka.
Himalayan Circuit:
This is normally in the Himalayan Range of Jammu & Kashmir, Himachal Pradesh, Uttaranchal & in the Eastern Himalayas.
Our Motorbike/Motorcycle tours doesn't have any special itinerary for your India tour because you are free for choosing any itinerary for your motorbike tour, we would customized tour as per your requirement and duration of your tours.
You can take enjoy the motorbike tour in anywhere within India as per your choice full itinerary.